Project:
EVENT MARKETING & PRODUCTION
Background
"Guns & Hoses" is the common name given to events nationwide that feature police officers and firefighters competing in various sports. There is a natural, friendly competitive nature between the first responders, and – regardless of location – these are always fun, well-promoted and well-attended events.
In Omaha, Guns & Hoses is the leading police vs. fire competition and has drawn thousands of spectators annually since 2017. In fact, the event was awarded "Best Event" by Metro Magazine in 2018!"If you added accent wallpaper to your interior during the pandemic (or just liked the "before and after" post on Instagram), you will definitely love wallpaper in wedding design! The perfect place for a signature wedding color accent would be the backdrop of the front door weddings trends 2022 or the stage behind the band," says Mindy Weiss. "Recently, a lot of emphasis has been placed on the style of the guests. Everyone is dressing up like a needle, and some even think over the images, as if they had descended from the stage, "says 42 North. Mindy Weiss agrees: "After all these months on the couch, the guests can't wait to dress up again. Get your tuxedos ready – black tie is back!
For the past several years, all proceeds have been donated back to the First Responders Foundation – a 501(c)3 nonprofit organization – to help solve community public safety issues and support first responders.
Since 2017, Say Hey There has been the marketing firm behind the event, helping to develop creative and rally community. Scroll through this page to check out all the ways we've helped the event grow over the years!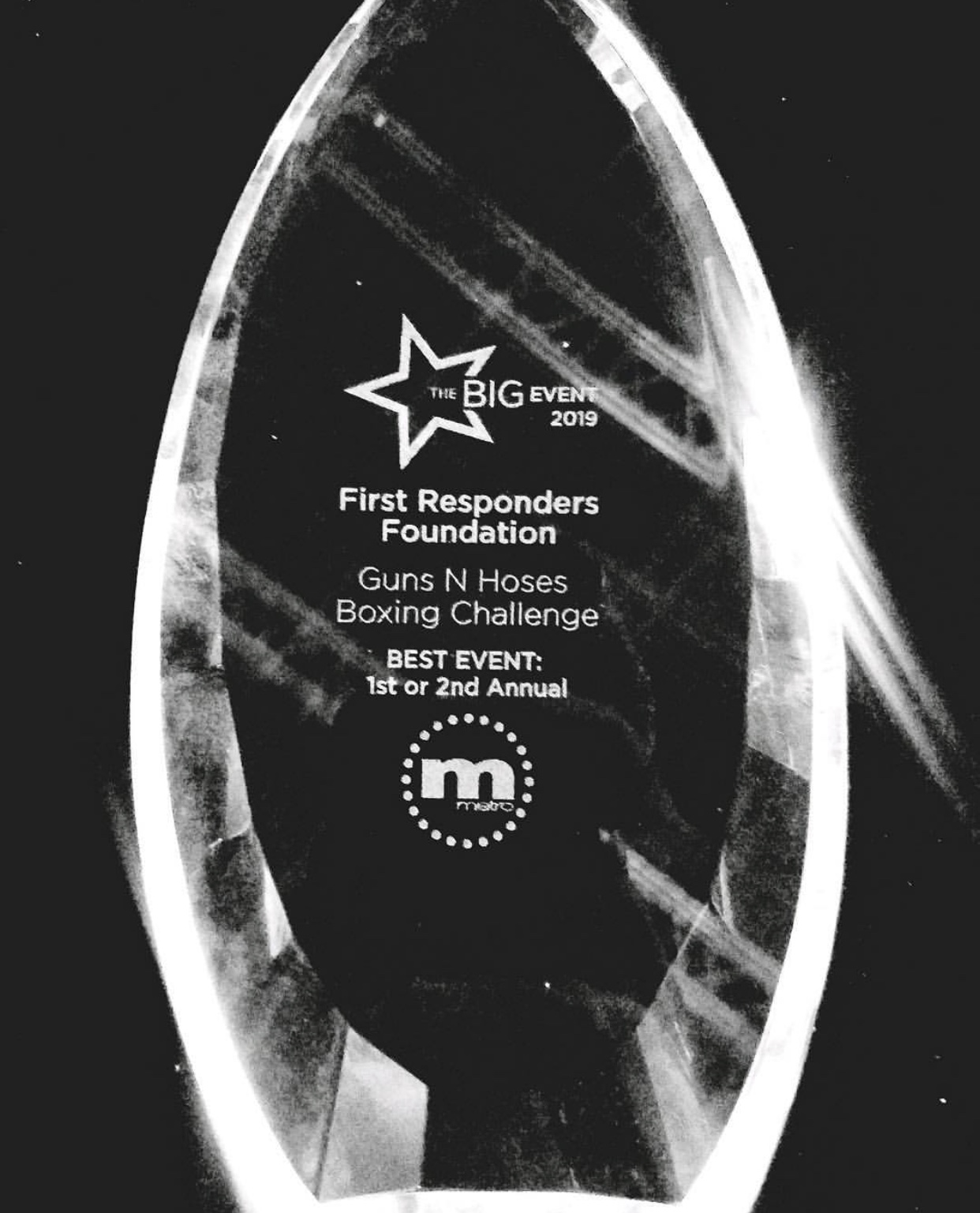 Marketing Approach
We have had much success with a diversified approach and take advantage of a wide-range of mediums such as social media, email, TV, radio, digital billboards, print, and community calendars, partners, and influencers.
While Guns & Hoses typically occurs each spring, we begin planning out each of these aspects 9 months in advance.  This includes developing a timeline, budget, communication plan, sponsorship packages, and a marketing calendar as well as securing relationships with media and various vendors.
Social Media Campaigns & Engagement
Our editorial calendar spans Facebook, Instagram, and Twitter. In addition to the Guns & Hoses and First Responders Foundation social platforms, our content is cross promoted by partners, first responders, sponsors, and by official first responder agencies like the Omaha police and fire departments. Approximately 20% of our overall marketing budget is dedicated to social media advertising.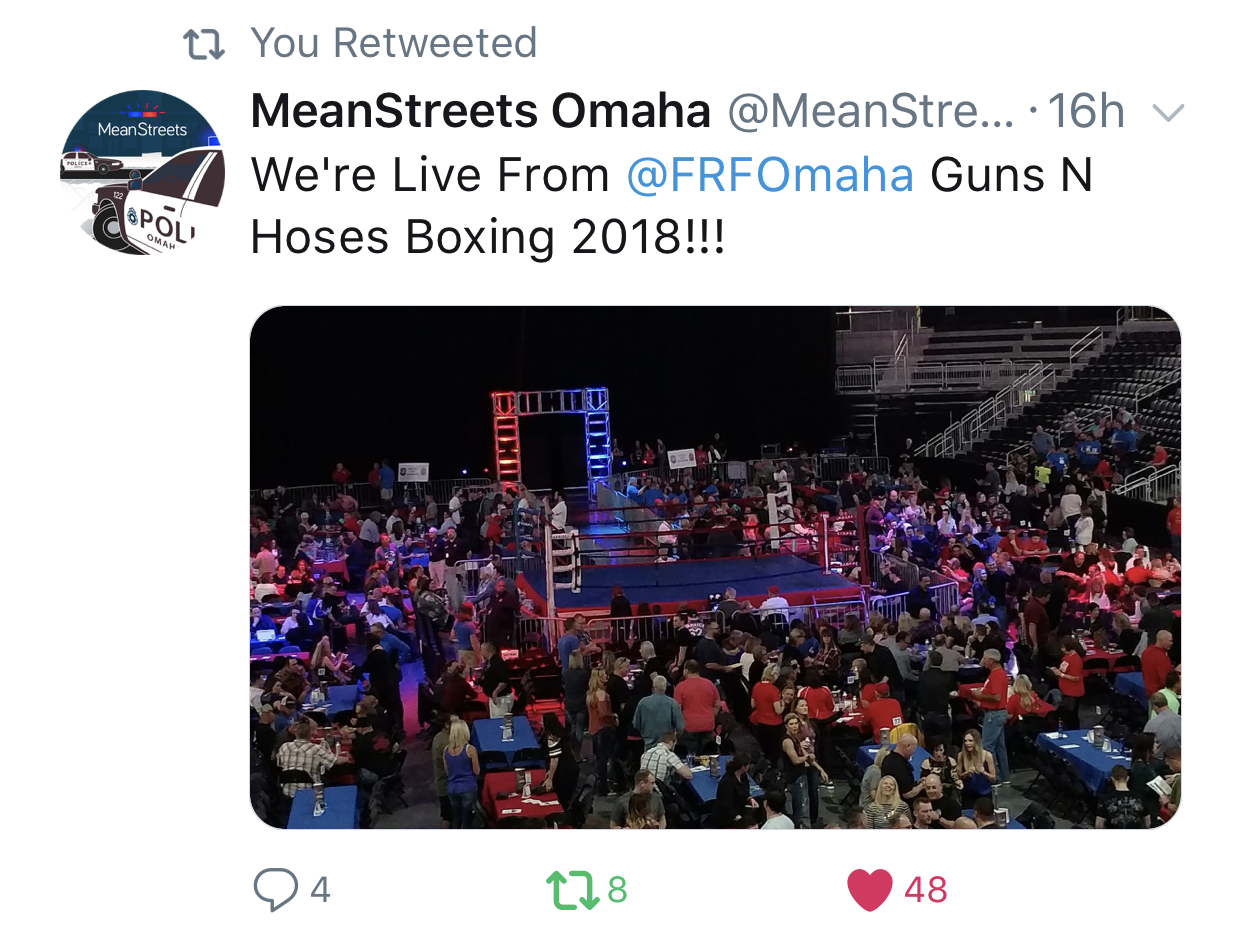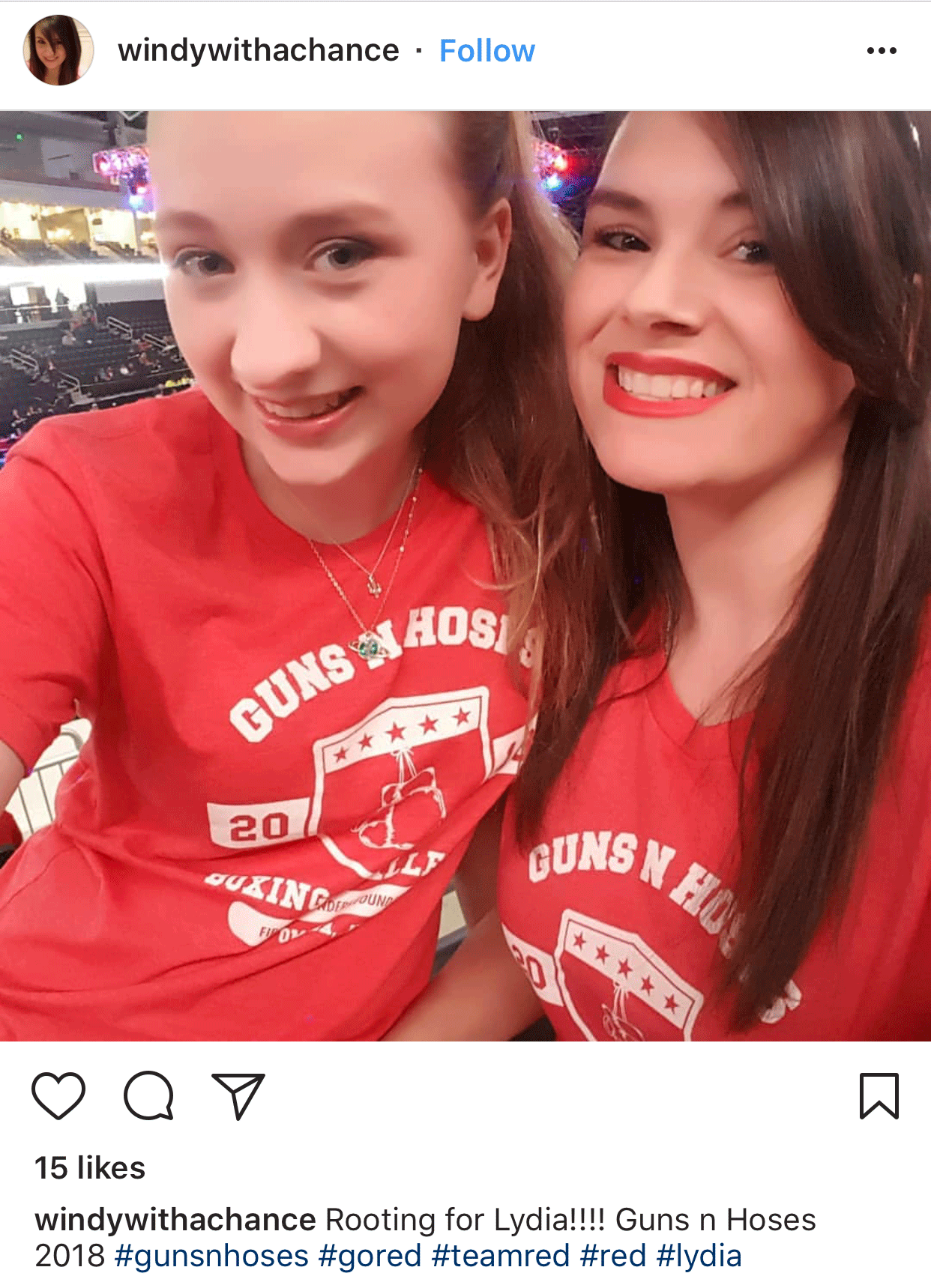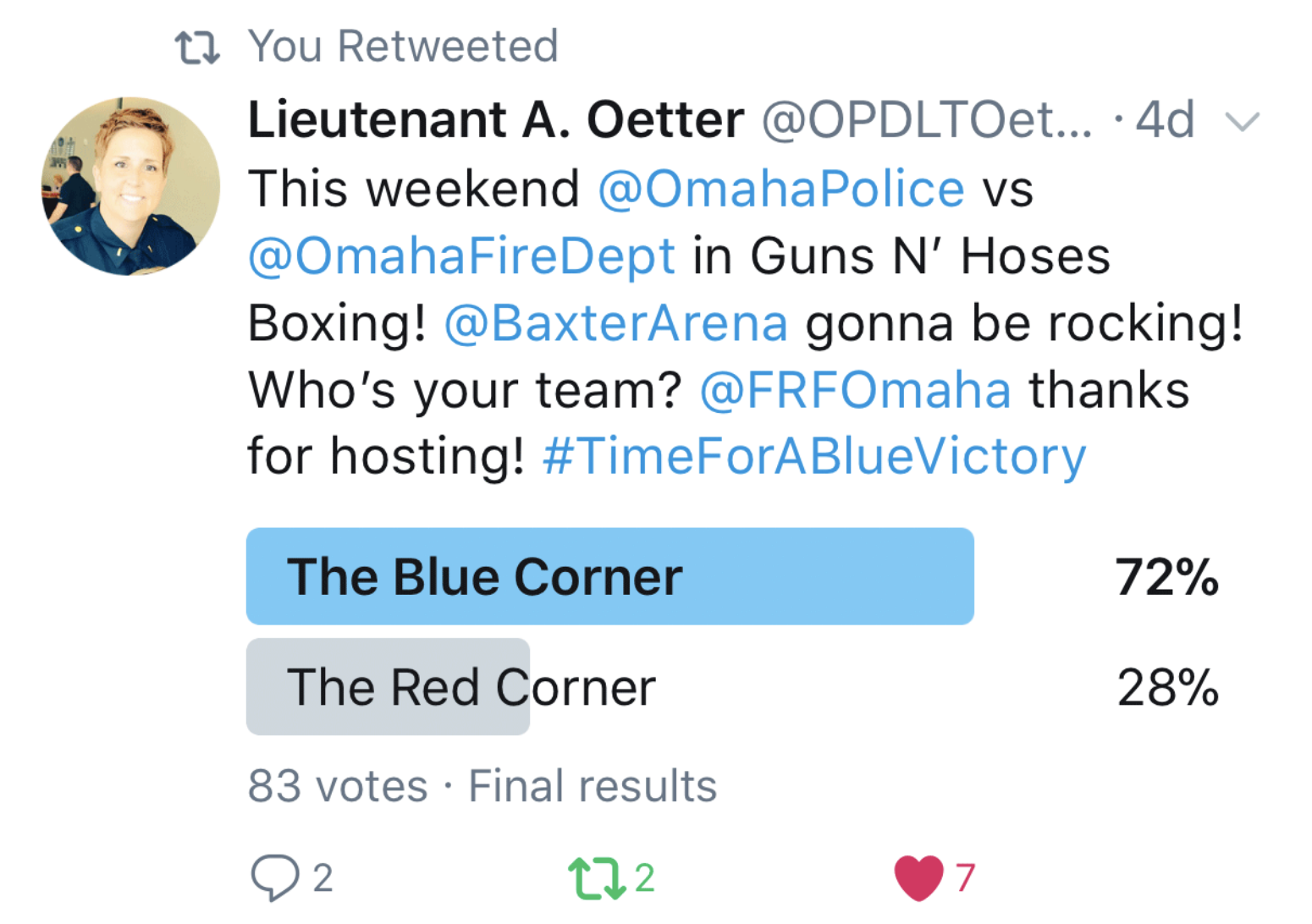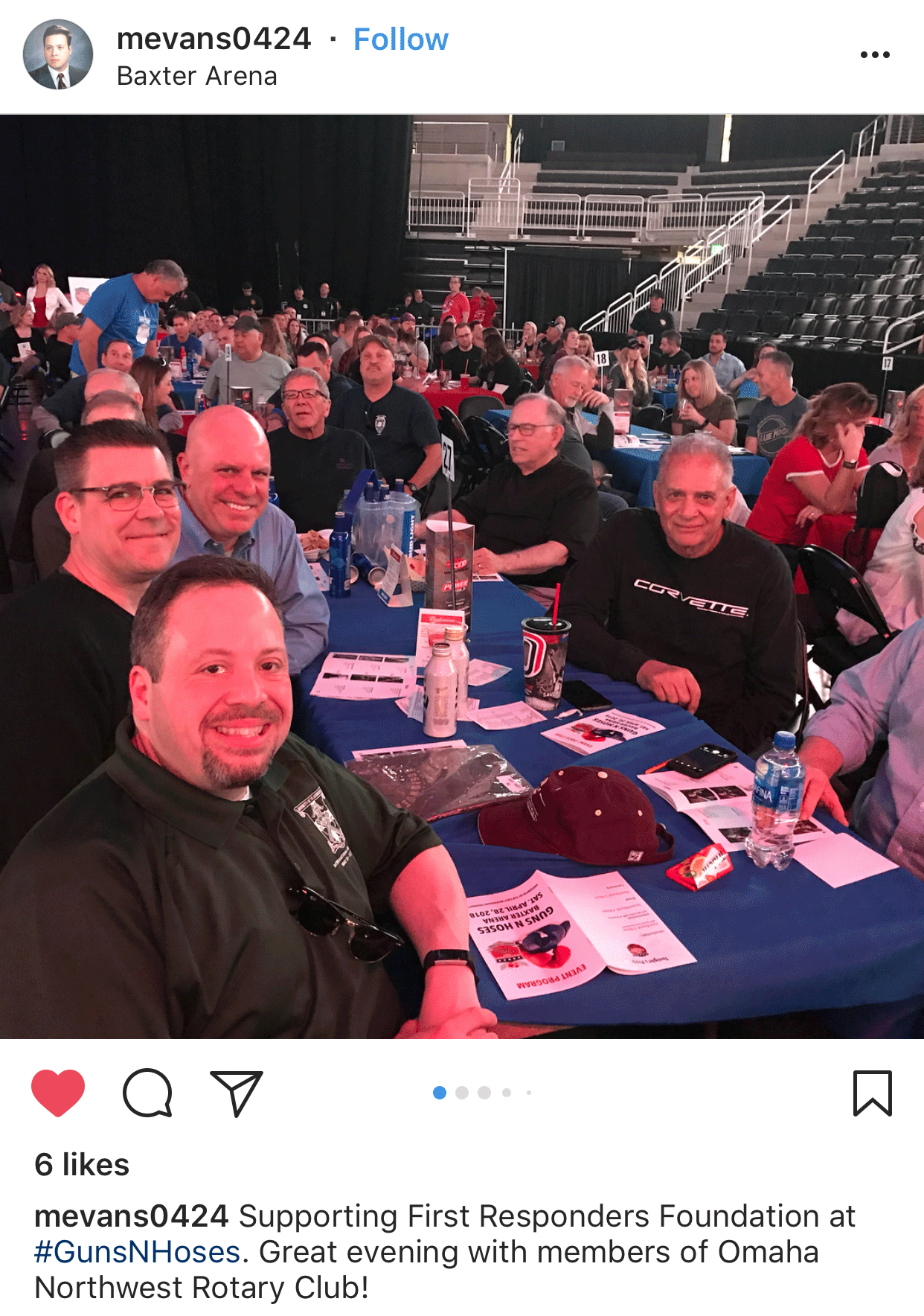 Radio/TV
In the past we have worked with NRG Media in promoting the event across several of their radio stations, including 101.9, 98.5, 1620 The Zone, 106.9, and La Nueva. In addition to regular commercials and on-air giveaways, we've booked live remotes.
For TV, we have worked with KMTV, Cox Media, and KETV, producing :15 bookends as well as a :30 cut. All commercials are aired during ideal hours and on high-performing channels selected for our target demo. We also receive complimentary PSAs for our nonprofit designation and additional interest for interviews and event coverage.
Website Development & Management
With the event's continued growth, we decided to give it its own website in 2018. Necessary features included:
Blog
Video and podcast integration
Social media integration
Sponsor portal
Fighter portal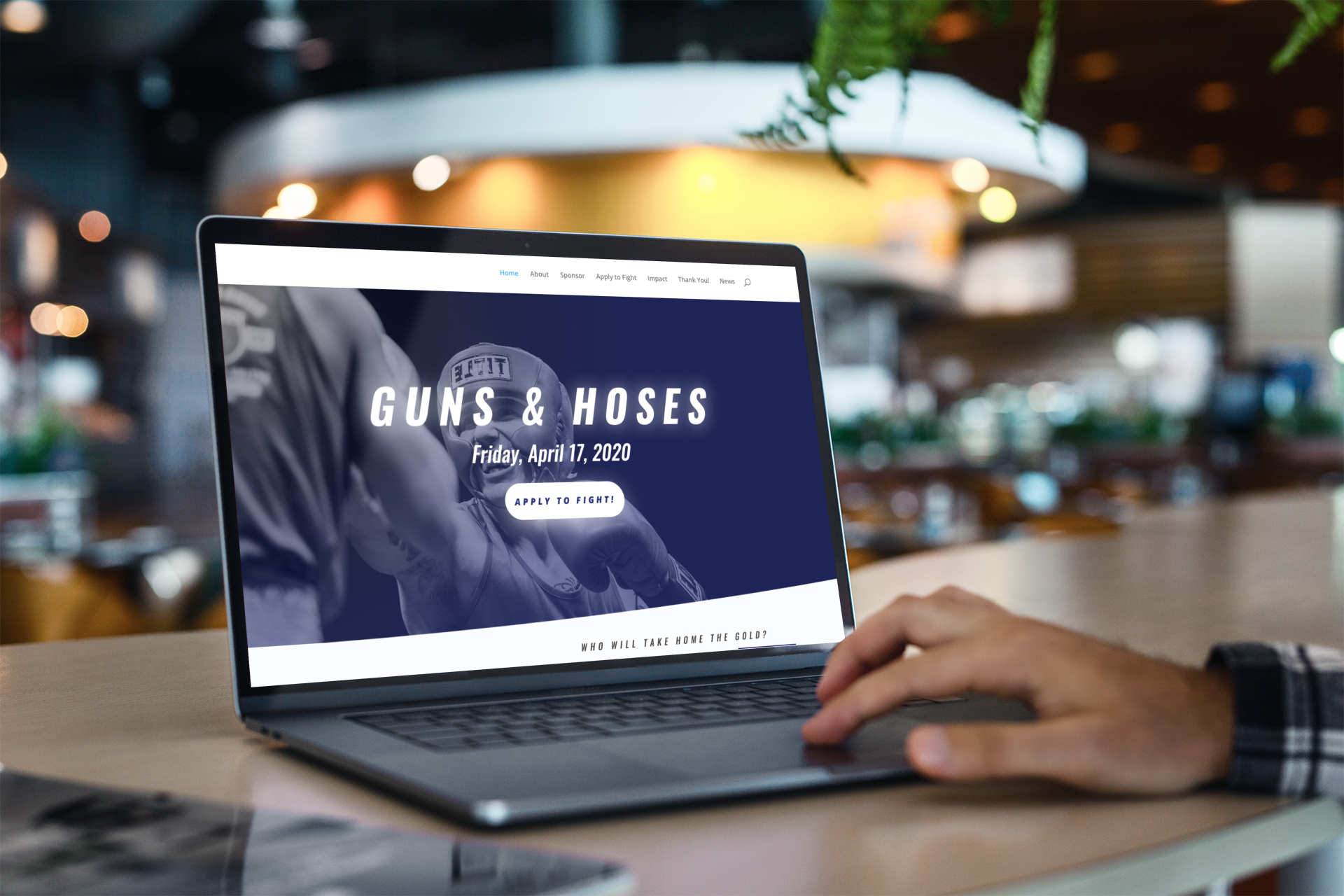 Photo & Video
We know the importance of high-quality photography and compelling video in promoting the event. That's why collaborate with the pros to produce great visuals, including:
Headshots of each fighter for event program and social media promos
Shadowboxing videos of each fighter for jumbotron displays and social media promos
:05, :15, and :30 TV spots
Social media cover video
"Ballyhoo" video for pumping up crowd at event
Fundraising videos to show at the event
Recap video that shows off highlights from the event
Post-event photography (we provide a shot list to ensure we have what we need to promote next year's festivities)
Email Marketing
We utilize the First Responders Foundation's existing email list to engage potential sponsors, partners, and attendees – regularly delivering messages about opportunities, specials, and other event-related information.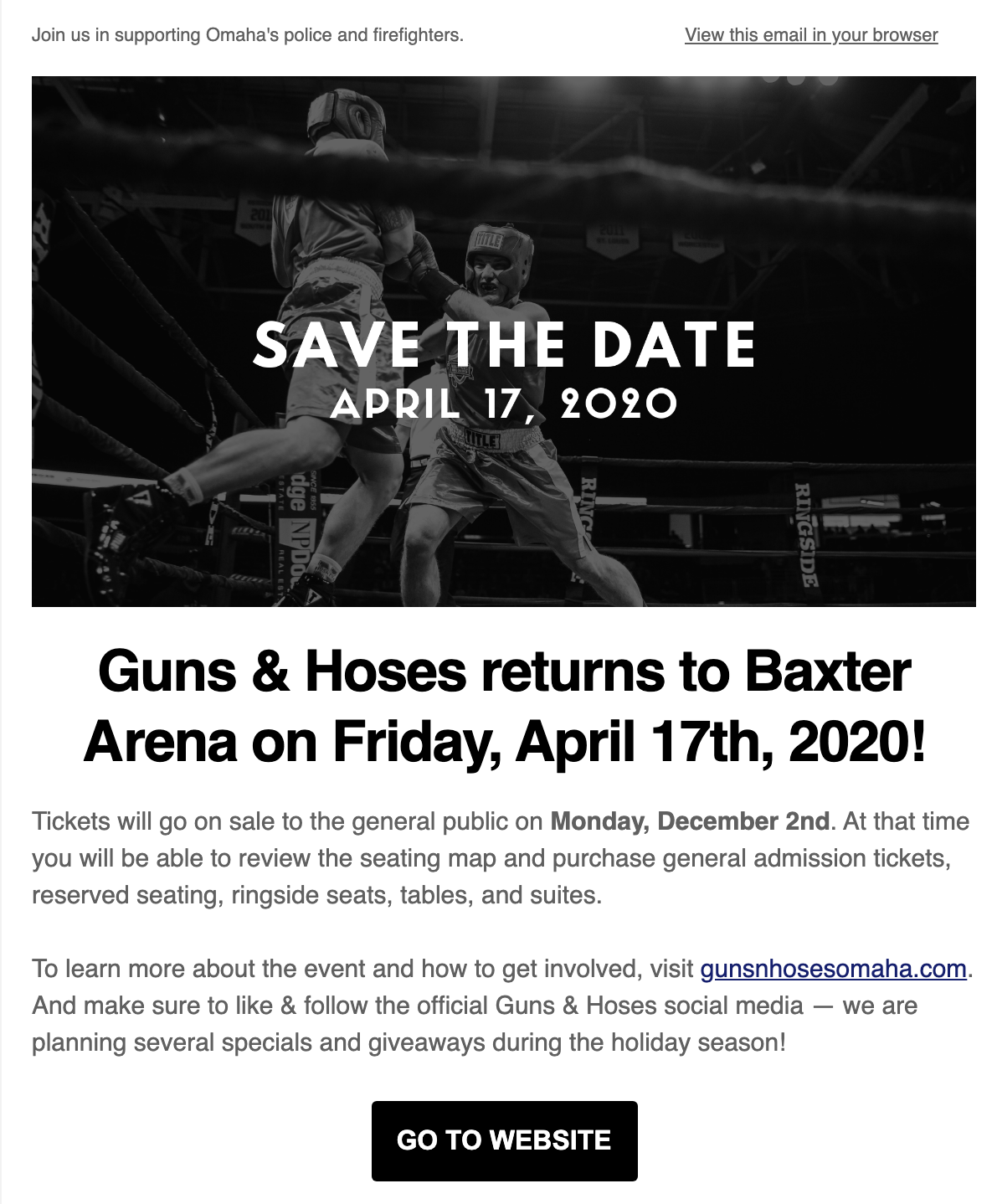 Baxter Arena Creative
To bring the event to life, we develop the graphics and creative inside and outside the arena, including everything shown on the marquee, jumbotron, and other displays leading up to and during the event.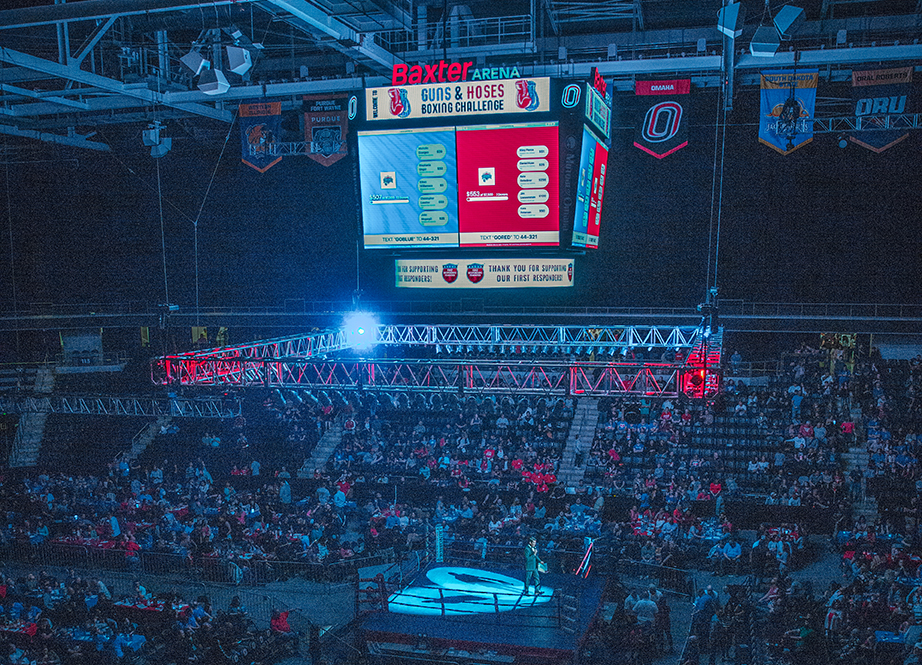 Event Production
In addition to making the event work aesthetically, we are also responsible for writing the script and timeline for the evening and ensuring they are followed. This includes regularly meetings with Baxter Arena, scheduling walk-throughs to test A/V, and working with the rest of the production crew to ensure nothing is missed.
There are many factors to consider, including A/V cues, the fight card, intermission activities, and promos promised to sponsors. And if something does go awry, we have our trusty red phone so we can communicate with the ringside ops commander!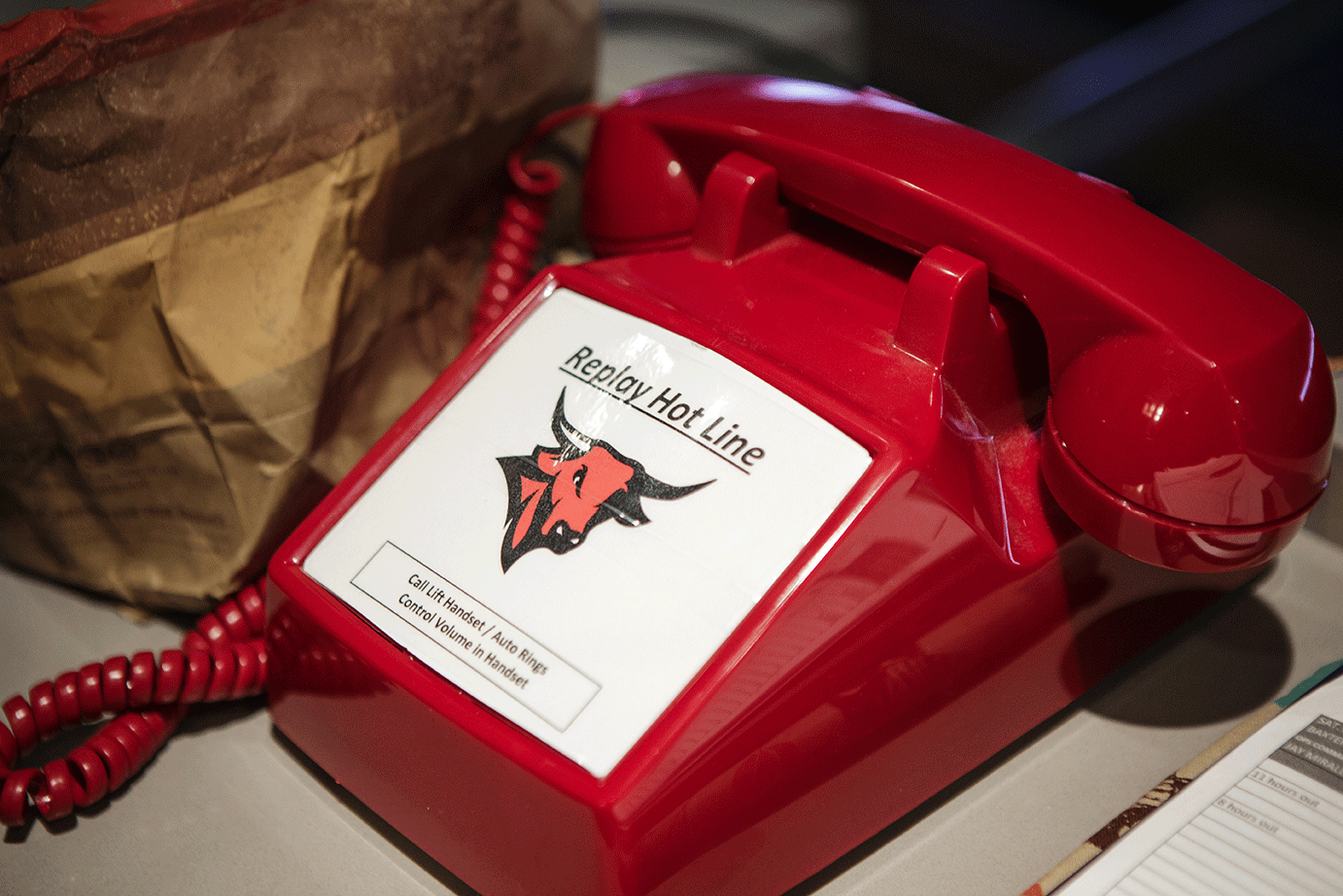 Merchandise Booth
What's an event without merch? We've helped determine what merch to purchase, in what quantities, and helped create the designs.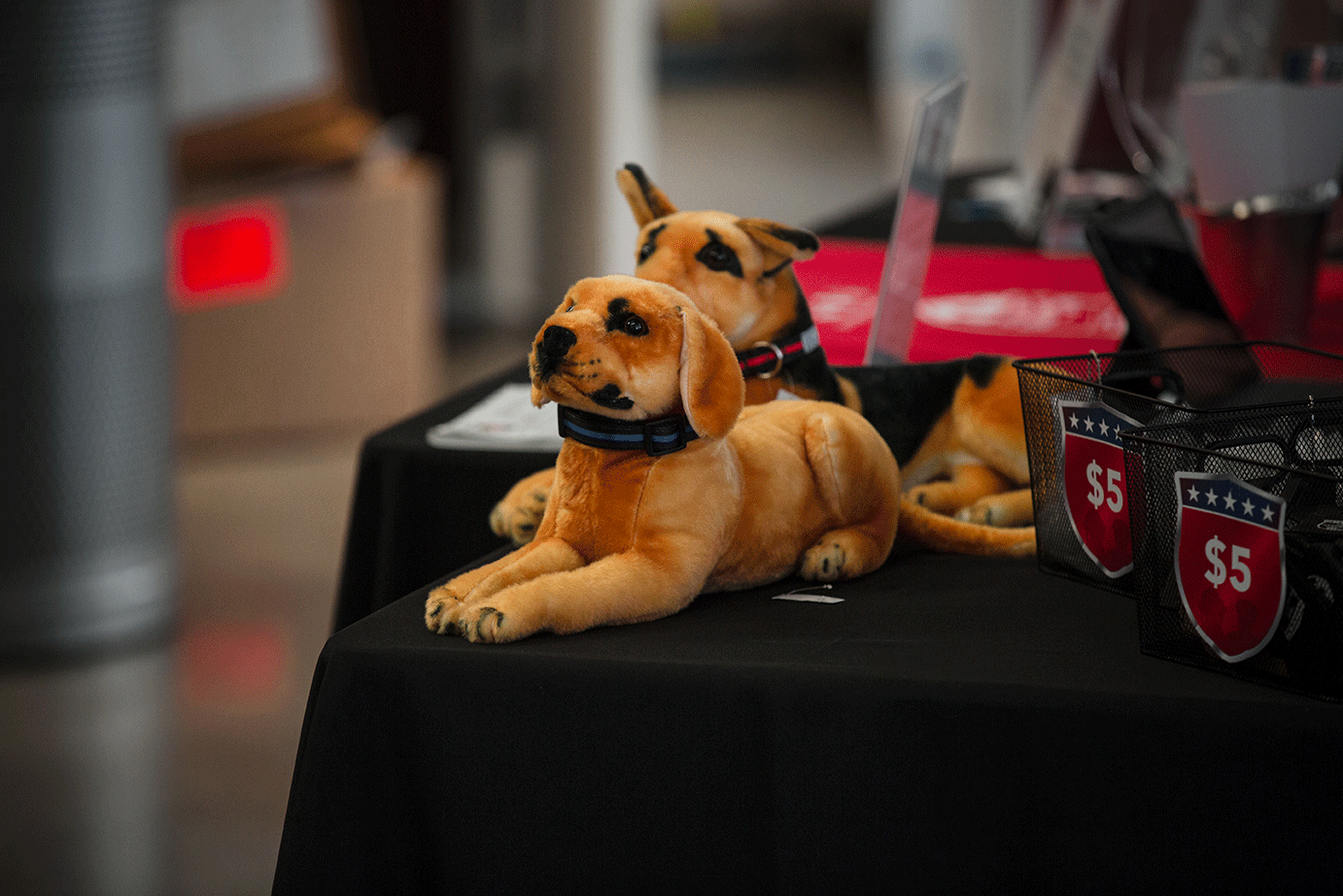 It's Hockey Time!
In 2022, after two years hiatus due to the pandemic, the First Responders Foundation transitioned the boxing challenge into a hockey challenge! The inaugural year was a complete success, selling 2,700+ tickets and raising $70,000+ to support our heroic first responders. We can't wait to skate back into Baxter Arena in February 2023!